Grosvenor Street Physiotherapy
Pain & Injury Treatment In Mold.
Grosvenor Street Physiotherapy, Mold
Tired of the aches and niggles? Ready to feel like the old you?
You've come to the right door.
Knock knock: Book a visit
At Grosvenor Street Physiotherapy Health and Wellbeing Clinic we are dedicated to helping our patients improve their quality of life by reducing pain, restoring movement and improving function. Whether you have been affected by injury, illness or disability we can offer treatment, rehabilitation and advice focussed around your individual needs and goals. We believe when you feel better, you live better.
Our highly skilled multi-therapy team put your health and wellbeing at the centre of our focus, by listening to your problem and giving you the time you need to explain it. You do not have to be referred by your GP or have private health insurance to make an appointment. Contact our friendly admin team to make an appointment or to discuss any questions you may have. They can also organise a call back from a practitioner if you are unsure if the service is right for you.
Our friendly GSP team are ready and waiting! We can't wait to meet you.
There's not much we don't treat!
As well as specialist areas such as:
Holistic services from the GSP family
We're lucky to be able to offer a whole host of holistic services all under one roof. Alongside our physiotherapy services, you can book:
First impressions are important. All the staff are very friendly and helpful. My progress was amazing! I was treated in a thoroughly professional way with a kindness and empathy that allows me to recommend Grosvenor Street Physiotherapy with no hesitation whatsoever.
Just wanted to say a huge thank you for not only fixing me but making these sessions so much fun. I massively appreciate your help.
Thanks to Grosvenor Street Physiotherapy my injury has taken much shorter a period of time to heal and I have full range of movement. Looking forward to getting back to football!
Over the years Grosvenor Street Physiotherapy have kept my many injuries, aches and pains under control so I can enjoy my hillwalking. Always cheerful and positive, I would recommend them to anyone.
Can't thank Grosvenor Street Physiotherapy enough. Had an on-line consultation today about some back trouble and it was a great experience.
One of the best in the area Stewart is brilliant
Really friendly staff who made the whole process comfortable from the outset. Clear, non jargon language was used which made it easier for me to follow and understand each step of my treatment. This also allowed me to identify and measure my progress throughout treatment. A tailored programme of exercises was produced for me to aid my recovery which I have continued to do, helping me get back to and stay in pre-injury physical condition.
In July this year I experienced significant leg pains to the extent I became unable to walk properly. It was perhaps as a consequence of an over energetic bike ride on my new pedal assist bike. Being 64 (with already limited mobility) it's never too late to have fun (I keep telling myself). I was in a mess so I had a couple of sessions at Grosvenor Street Physiotherapy which included an exercise program, acupuncture and recommendations for pain relief medication, liaising directly with my GP practice. It took a month of following their advice and guidance, and it worked a treat. Absolute respect to Rob and Stewart who clearly know their stuff. If you have an issue trying to move about and don't know where to turn, then don't hesitate, get down to Grosvenor Street Physiotherapy. They are honest, professional and confidential and you will be pleasantly surprised how much you don't have to spend to get the treatment you require (quickly) - in your hour of need. They are true heros! Neil Worthington Mold.
neil worthington
2023-10-17
Following my visit and my exercise program in place my movement is much better,and following your recommend actions to my doctor I have been put on the list for a hip replacement Many Thanks .
Michael Dalton
2023-10-17
Thoroughly recommend. Receiving treatment currently for rotator cuff injury. Always able to fit me in at short notice. Very professional and a warm caring service. Keep up the good work.!!!!
Visited to get some advice as had been dissatisfied with the speed and response from the NHS. Received an appointment on my chosen day and saw Stewart. I was listened to with clear interest and respect. My mobility issues were checked out, suitable exercises recommended and a letter was promptly written to my GP recommending further onward specialist referral. I came away feeling relieved, very satisfied and reassured. I would thoroughly recommend this practice based on this experience.
Anne Brenchley
2023-10-17
Great support and service from the team at Grosvenor Street Physiotherapy. Rob (our Physio) provided my daughter with excellent treatment (with video exercises to follow at home), he also shared advice for a keen up and coming footballer on strength training etc. Thankyou!
Just had the most amazing massage by Sam! I will definitely be returning.
Catherine Jones
2023-10-17
Great service, very friendly! Certainly recommend, they guys here have helped me through a challenging shoulder injury. Thanks
Lawrence Wardle
2023-10-14
I had lost my stretch ribbon, I was kindly given another, no charge
Find out what to expect when you come for a physiotherapy visit here in Mold, including what to wear, where to park and how to pay.
At Grosvenor Street Physiotherapy, you can always expect a warm welcome, sparkling clean clinic and knowledgeable therapists who look forward to seeing you.
You relax, we'll get the kettle on.
You can find our lovely, modern clinic on Grosvenor Street in Mold, North Wales. The clinic is warm in winter, cool in Summer and you'll always be welcomed with a smile.
Oh, and we keep the Clinic as neat as a pin. We think it makes all the difference.
Yes, we have some great options for parking near our clinic in Mold that are within walking distance.
You can park for free on Tyddyn Street, Mold. Alternatively, you can use:
Just outside the Clinic, we have a single yellow line which you can park on if you have a blue badge.
Yes, we have a lovely clean loo for you to use.
The GSP team bring a wealth of experience to the Clinic, along with a healthy dose of humour and a laser-sharp focus on making sure you get the right treatment. Find out more about GSP and all the little things we do to make your visit calm and comfortable.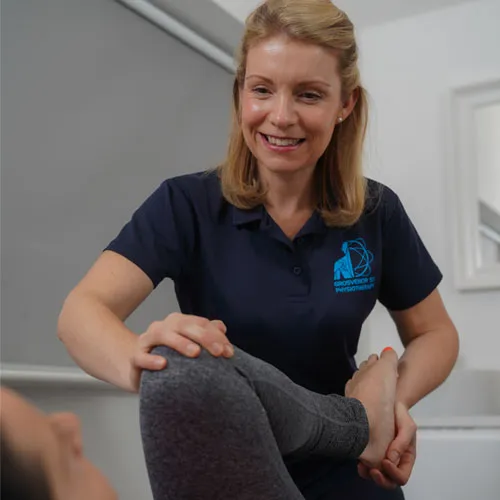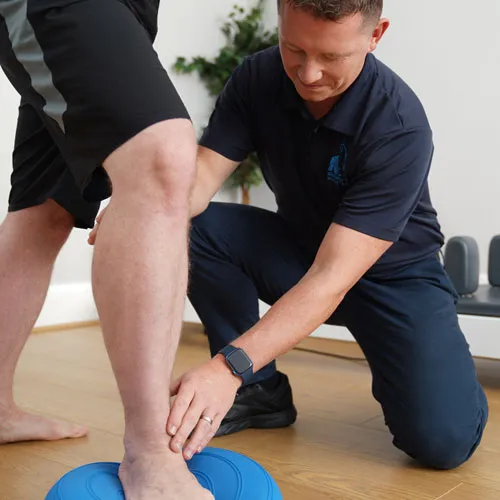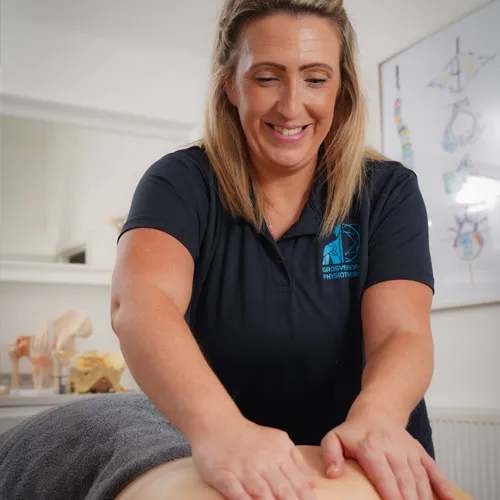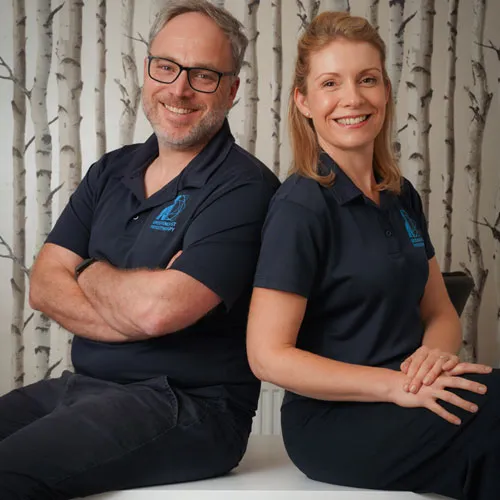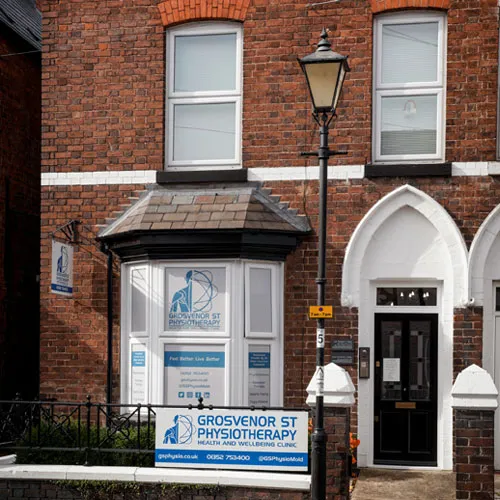 We are approved by the following insurance companies:
If you've got any questions or would like to book, get in touch with our friendly team today.
You don't need a GP referral to come and see us, you're always welcome.
Don't worry if you're not sure what service you need. Just ask for a call back and one of our experienced team will get in touch to understand your needs and point you in the right direction.